Welcome to the Augustine Christian Academy's Employment Opportunities page. We encourage you to preview our currently available positions and learn more about our mission, vision, and values as you prayerfully consider your next steps.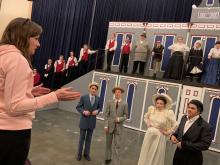 Augustine Christian Academy is a classical Christian school founded in 1997. Since its foundation, ACA has been committed to filling teaching positions with passionate and committed educators who will strive to do everything "for the glory of the Lord." 
As the student body continues to grow through numerous recruitment efforts, the ACA Administration is considering ways to possibly expand faculty and staff. 
If you are interested in joining the ACA family through a faculty or staff position, please submit a resume and cover letter which demonstrates your interests, commitment to education, and subject speciality.
Please e-mail John Ahrens, Headmaster.