Academics
School of Grammar
KNOWLEDGE & DELIGHT: FOUNDATIONS OF KNOWLEDGE
In the classical model we follow at ACA, the elementary years, known as Grammar School, are, quite literally, foundational. These are the years when children learn the facts and fundamentals, (aka "grammars") of language, critical thinking, and knowledge acquisition.
Children are natural learners and have a curiosity about the world in which they live. They delight in finding out how the world works, and in the School of Grammar, we train them to explore the world and master the basic fundamentals to build their knowledge and thinking skills.  The classical approach recognizes that children learn through interaction with and discovery of the world around them, and that at this age they can learn quickly when given the right tools and the right environment, one that fosters their natural curiosity while giving them enough structure to make sense of it all.
Since God is sovereign and ever working, we teach our students to consistently return to God's Word as the foundation for their exploration of God's world (Psalm 119:11, Job 28:28). Hands-on experiential knowledge is augmented with careful study of the absolute truth of Scripture and investigation of history, English, classical languages, geography, science, and math that result in "scientia et delectatio," or knowledge and delight.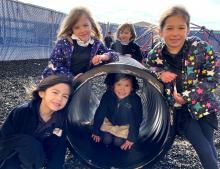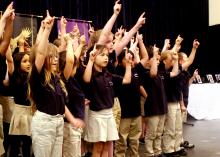 QUICK FACTS:
At ACA, the School of Grammar is for students in K4-5th grade (elementary). 
Kinder-Prep (K4) students must be 4 years old by August 31st 
Kindergarten students must be 5 years old by August 31st
First Grade students must be 6 years old by August 31st 
Grammar students participate in Chapel every Wednesday morning where they sing praise music, and have a brief Biblical lesson that guides young minds in seeking Christ first in their lives. 
Students attend weekly art and music lessons. 
The highlight of the end of the school year for Fifth Graders is being placed into one of the four Royal Houses as they begin their journey in the School of Dialectic.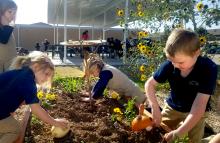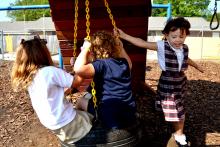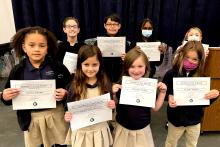 Imagine a school where your child can...
GROW in Knowledge
DELIGHT in Learning
WONDER at God's Creation 
Our motto for Grammar School is wonder and delight because we know that it is a wonderful thing as students are introduced to the world around them and delight in becoming more knowledgeable about it. Some of the ways we help develop wonder and delight include: 
Integrated curriculum with themes that unify literature, history, science, art, and music. As an example, 2nd graders build miniature tabernacles out of clay to connect the Bible to ancient history through the medium of art. This is a distinct value of classical education compared to traditional or "modern" education.
Broad-based use of story, song, rhyme, rhythm, memorization, and recitation to make learning fundamentals fun and engage all learning modalities.
Ongoing mentorship program with secondary students that truly demonstrates our family atmosphere. It's not unusual to find a high school student reading to a kindergartener or Grammar students joining the high school Biology class as they dissect fish. This is intentional and unlike anything else, anywhere else!
Early introduction of Latin to help students develop a sense of the universal consistencies of language construction. These early language lessons are designed to be engaging for young minds with something like the Latin conjugation of "Amo, amas, amat" (I love, you love; he, she, or it loves) being taught as a chant or a rhyme.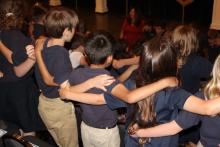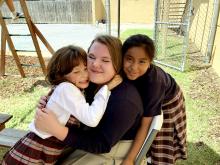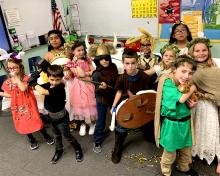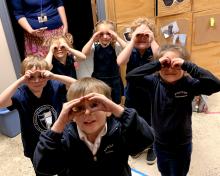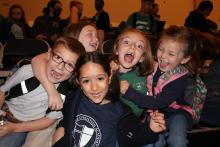 More Wonder & Delight...
Daily Bible lesson and weekly chapel services where students sing and recite Bible verses
Opportunities for and appreciation of visual arts, performing arts, music, theatre, and dance with weekly lessons where students might learn to Square Dance one week and design their own Koinobori (a Japanese carp-shaped windsock) the next! 
Field Trips that support history and hands-on science studies such as the Oklahoma Aquarium, Tulsa Children's Museum, Stillwater's Pleasant Valley Schoolhouse, Oxley Nature Center, Kansas' Cosmosphere, and the annual Tulsa Engineering Challenge.