Support ACA
Parent Academy
Empowering Families, Enhancing Achievement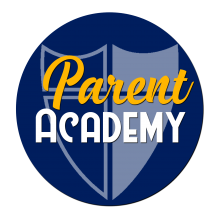 What is Parent Academy? 
ACA strives to operate as an extension of the family under the assumption that the education of young people is the responsibility of parents. ACA's Parent Academy is designed to equip parents with the tools necessary to offer support at home with parents becoming partners in their child's success. Parent Academy courses will vary from seminars and lectures to a series of classes as the ACA Administration seeks to respond to the needs of parents, students, and teachers. Along with curriculum guidance, Parent Academy will also provide fellowship opportunities for families looking to connect with others in the ACA community. 
Upcoming Parent Academy Classes
Spalding Parent Course
Begins: Tuesday, March 22, 6-8 p.m. 
Meets: March 22, March 29, April 5, April 12, April 19  
Instructor: Toni Ahrens, Spalding Certified Teacher Instructor 
Recommended for: Grammar School parents
NOTE: The cost to attend this course is free. The class will meet for 5 sessions for a total of 10 hours of teacher instruction for parents. Following graduation from the Spalding Parent Course, a parent will be confident in their at-home assistance in spelling, reading, and writing with the Spalding Method. 
PARENTS WILL LEARN:
The comprehensive Writing Road to Reading Language Arts Program

70 phonograms

Oral Phonogram Review (OPR) and Written Phonogram Review (WPR) procedures for practicing at home with their child

Spelling dictation procedures

The Spalding Marking System

Writing concepts

Reading concepts

PARENTS WILL RECEIVE:
ACA Tote Bag 

Participant binder with tips and resources