Welcome to the Augustine Christian Academy's Employment Opportunities page. We encourage you to preview our currently available positions and learn more about our mission, vision, and values as you prayerfully consider your next steps.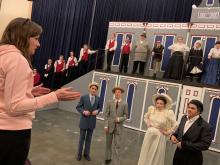 N
ow Hiring Part-Time and Full-Time Teachers
for the 2023-2024 School Year: 
Augustine Christian Academy (ACA) is a Christian, classical, multi-denominational, college preparatory school for grades PreK-12. We are dedicated to educating young people to think, reason and persuade from a distinctly Christian worldview. Our goal is to equip students to understand their times, to impact their culture and to serve God and man. ACA uses a classical model that integrates every subject with the Biblical truths of the Christian faith. 
The qualified individual is committed to fulfilling our mission within our community of students and families. The role includes all aspects of planning, organizing, and implementing an appropriate instructional program in an elementary or secondary learning environment that guides and encourages students to fulfill their academic potential and promote positive spiritual development. 
All applicants must have a personal relationship with Jesus Christ and be able to sign in affirmation the school's statement of faith.
Qualifications
1. Holds a bachelor's degree from an accredited college or university.  
2. Two or more years of classroom teaching experience in subject area preferred.
3. Knowledge of computer technology required.
4. Willingness to pursue professional development opportunities.
5. Demonstrate ability to inspire learning and cultivate relationships with students
6. In accordance with ACA values, demonstrate accountability, respect, creativity, leadership, and integrity.