Welcome to the Augustine Christian Academy's Employment Opportunities page. We encourage you to preview our currently available positions and learn more about our mission, vision, and values as you prayerfully consider your next steps.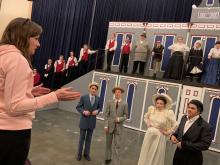 OPENING: Grammar TEACHER. 
ACA is seeking a passionate and qualified educator to join our School of Grammar as a full-time Elementary Teacher for the 2022-2023 school year. The teacher will plan and implement curriculum in Math, Science, Reading, Bible, Writing and History; all including Christian worldview integration for our students.
Familiarity with Spalding and Dimensions (Singapore) Math curriculum is a plus. Candidates should exhibit a passion for teaching and working with children, and provide a hands-on, active learning environment for students.
Interested applicants should send a resume and cover letter to John Ahrens, ACA's Headmaster.