Welcome to the Augustine Christian Academy's Employment Opportunities page. We encourage you to preview our currently available positions and learn more about our mission, vision, and values as you prayerfully consider your next steps.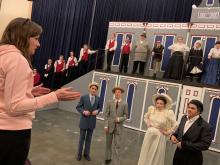 OPENING: Language Arts Teacher 
ACA is seeking faculty for the 2022-2023 school year for the School of Rhetoric's (grades 9-12) Language Arts department. Language Arts department classes include Composition and Grammar, Rhetoric, and Advanced Composition & Grammar.  
ACA's mission is to use Christian and classical education to assist parents in developing loving and confident young people who know how to think critically, reason clearly, and share the truth persuasively. We value accountability, community, creativity, excellence, integrity, leadership, respect, and service. Applicants must be qualified not only to serve in an academic capacity, but must also be ready to serve the Lord Jesus Christ in the execution of the mission of school, a mission aimed not merely at forming the mind, but also the heart and soul of the students. 
Qualifications: Bachelor's degree in one or more of the areas of intended instruction. Candidates will have a high level of interest, knowledge, and experience in relevant subjects, and communicate that knowledge effectively via engaging lectures and instruction. Experience with or training in the art of classical education is preferred. All applicants must have a personal relationship with Jesus Christ and be able to sign in affirmation the school's statement of faith.
Interested applicants should send a resume and cover letter to John Ahrens, ACA's Headmaster.