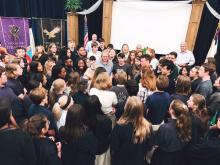 We pride ourselves on being family-oriented. As stated in our school values, we believe that education is more than communicating facts. We truly believe that as followers of Christ the world should know us for our "love for one another." So we live life together as family—praying, eating, singing, learning, laughing, and solving problems together as brothers and sisters. Parents are vital to the success of this family-oriented atmosphere as we believe we exist to come alongside parents in fulfilling the Biblical mandate to educate their children.  
ACA developed the following Parents' Code to express the appropriate response of each parent for their support of the Christian educational program at ACA:
● To pray for Augustine Christian Academy.
● To cooperate with the educational functions of ACA, seeking to make Christian education effective in the life of each enrolled child that they may love and serve God all of their lives.
● To willingly undertake volunteer duties and work obligations for ACA as opportunities arise and as God provides time, ability, and strength.
● To attend meetings and parent functions of ACA as regularly as possible.
● To heartily recommend ACA to other Christian families as opportunities arise.
● To give to ACA financially beyond tuition and fees and commit to participate in the annual school fundraisers as the Lord enables.
● To fulfill all financial obligations to ACA on or before the due date.