Academics
School of Dialectic
Order & Wisdom:
Growing in Knowledge
Students who have learned to delight in knowledge begin to move from the "what" questions of Grammar school to the "how" and "why" of the School of Dialectic. God has ordered all creation, and in order to understand God's creation, one must question how it works. In this school, students are encouraged to ask questions and discuss ideas. They study primary sources of information rather than homogenized textbooks. Logic and critical thinking skills are developed and disciplined in traditional logic classes, and students discover that ideas have consequences—even their own ideas.
Objective, absolute truth holds up to questioning, and Dialectic students learn to question the world around them and compare what they see to the truth of God's Word. This results in a secure understanding of their place and purpose in history in an ordered world, which, without proper perspective, can seem random and hostile. Learning why things happen, not just what happened, helps students gain wisdom to apply biblical principles to their personal lives, and security in knowing that God's will is never squelched, His purposes never thwarted (Job 42:2, Psalm 115:3, Ephesians 1:11). What joy to grow in "ordo et sapientia" or order and wisdom.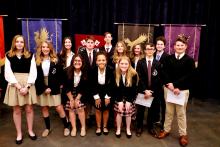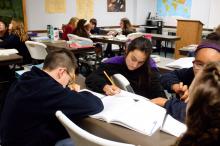 Quick Facts
The School of Dialectic is for students in grades 6-8 (junior high).

CLICK HERE to view the Course Catalog for students in grades 7-12. 

To support homeschool families, ACA accepts part-time students beginning in 6th grade. Learn more here. 

Beginning in 6th grade, all students are enrolled as members of one of the Four Royal Houses. Learn more here. 

6th Grade is a transition year that is structured with a homeroom teacher for all core classes.

Beginning in 7th grade, students attend classes on a collegiate model so no classes meet five days per week 

Classes are conducted in a discussion format instead of a strictly lecture-based format (hence "dialectic") 

School of Dialectic and School of Rhetoric students participate in a retreat at the beginning of each school year called "Charger Round Table." 

Students graduating from the School of Dialectic participate in a weekend class trip to Oklahoma City and Dallas with stops at the National Cowboy Museum, Oklahoma History Center, Oklahoma National Memorial, Sixth Floor Museum at Dealey Plaza, and Medieval Times.