ROYAL HOUSES: An ACA Tradition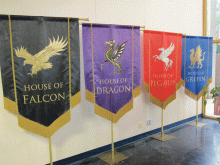 FOUR ROYAL HOUSES: ONE ETERNAL KING
To help build the family atmosphere as students grow in knowledge and wisdom, ACA borrows from a tradition long used in the boarding schools of Europe and divides the students in the Schools of Dialectic and Rhetoric into Houses.
Although the students do not actually "house" on campus, this allows every student the opportunity to belong to a smaller group and to enjoy some personal one-on-one contact with their staff House sponsor in a way that is not related to class time. The mixing of students from grades six through twelve affords an opportunity for older students to mentor the younger and the younger students to learn from the older. The four Houses are named for traditional medieval characters:
Dragon House represents protectors, valiant defenders of truth.
Falcon House represents eagerness to serve and enthusiasm.
Griffin House represents faithfulness, endurance, and virtue.
Pegasus House represents compassion and sincerity.
The Houses compete with each other in four areas: academics, character, games, and community service. Points are tallied weekly, and the House with the highest number of points at the end of each quarter is declared the House of Honor and given an off-campus lunch. House competitions include quiz bowls and House challenges (in everything from pogo stick to chess and basketball to bake-offs). The Houses compete regularly in Grailball, which is a House game invented by ACA alumna Lauren Post. The unique game is played outdoors and requires skill and physical endurance. The Houses also have areas of the school campus they clean daily.
As the students grow in their Houses, they build on the traditions and bring new and exciting ideas to the school, while at the same time building the kind of close relationships that help us communicate the truths of the Christian life to each other. It is as the shield above the House banners in our chapel reads, "Four Royal Houses: One Eternal King".
Charger round table: Starting the New Year in Fellowship
Each August, soon after school has begun, our students in the Schools of Dialectic and Rhetoric (Junior High and High School) spend a couple of days at an off-campus retreat known as the Charger Round Table. This is a special time of bonding with House members, learning leadership skills, listening to fellow classmates, growing in Christ, and having a lot of fun. 
Time is devoted to praise and worship in the chapel, followed by the Charger Round Table. This is one of our most important school traditions. Imitating a profound medieval custom, our round table has no head and demonstrates the equal value of every person's thoughts.
The Houses compete in indoor and outdoor athletic tournaments amidst high energy and cheers. One of our most fun traditions is the student v. faculty volleyball game.
Whether singing worship songs, playing volleyball, or making a human pyramid, our purpose at ACA is to celebrate together this life God has given us. The camaraderie that evolves from the time spent at Charger Round Table lives and grows with the students throughout the school year.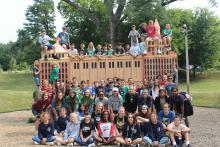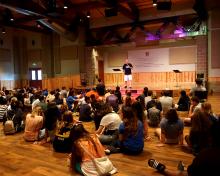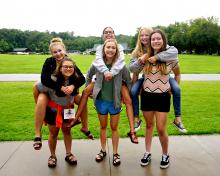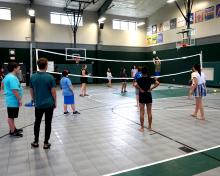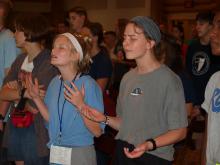 Chapel is held each Monday for all students. Grammar students sing praise music and have a brief Biblical lesson that guides young minds in seeking Christ first in their lives. 
For students in the Schools of Dialectic and Rhetoric (junior high and high school), chapel is a function of their Houses. The worship team leads the students in worship. A Chaplain reads from the scriptures and leads prayer. The weekly messages cover Biblical truths, practical application of one of the school's statements of faith, or a special topic offered by a special guest as a part of our Salt & Light Speaker Series.
These services encourage students in their individual faiths, challenge them to live in a Christ-honoring way, and remind them that they are united by their faith in Christ. Most importantly, the truth of the Gospel is uplifted, challenging both students and staff to center each part of their lives around Christ. ACA chapels are non-denominational in nature.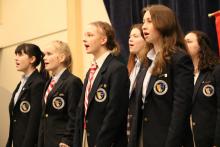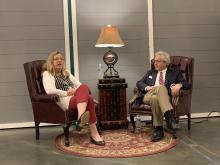 Salt & Light Speaker Series
While chapel is held each week for all three schools (Grammar, Dialectic, and Rhetoric), on the fourth Monday of the month, a special Chapel service is held for students in the Schools of Dialectic and Rhetoric. The Salt & Light Chapel is a speaking series where we invite a member of the Christian community who will challenge our students to live in a Christ-honoring way. 
Salt & Light Dress Code: High Convocation is required for Salt & Light Chapel. Dialectic students must wear sweaters or sweater vests and Rhetoric students must wear blazers. Ties are required for boys.
extracurricular activities
Electives & Clubs
StageCraft 
Yearbook & Journalism 
Robotics Club
Art Club
First Aid Club 
Computer Science 
Chess Club 
Tech Crew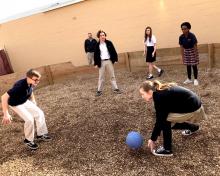 CAmpus Activities 
Playground & Foursquare Court
Gaga Ball Pit
Garden 
Spike Ball 
Grail Ball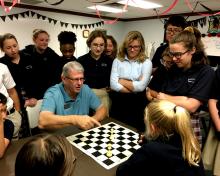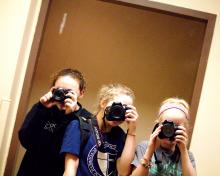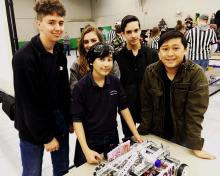 GRAILBALL: ACA's Own Sport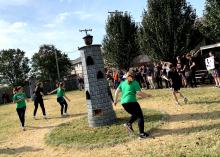 Augustine Christian Academy has never shied away from the titles of "unusual" or "different." From its beginning, the school has clung to the goal of training students to be creative and industrious to overcome obstacles and achieve what they can imagine. The students have repeatedly risen to that challenge with amazing results.
Several years ago, ACA student Lauren Post was challenged to design a game that would incorporate elements of the Medieval traditions of the school and be an active, enjoyable, and challenging game to be played among the Houses. She designed "Grailball."
The game involves two medieval towers placed at opposite ends of the playing field. Opposing teams attempt to move the ball down the field in an attack on the other team's tower. If they successfully throw the ball through a window of the tower or into its grail on the top, without stepping into the moat that surrounds the tower, they score points. Players may only move when they do not have the ball, and they must throw the ball from one teammate to another, giving opposing players the chance to intercept the ball and change the direction of play.
The school now offers Men's Grailball, Ladies' Grailball, and Junior High Grailball. While ACA created the game for fun and exercise, the tournaments have become a highly anticipated competition between the Houses.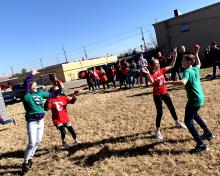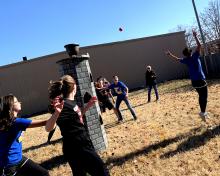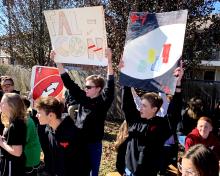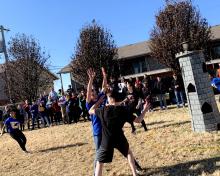 Winter Court
Winter Court, our annual formal banquet for Rhetoric students is a wonderful time of celebrating who we are in Christ. It includes the crowning of a King and Queen who become honorary members of all Four Royal Houses. By tradition, junior high students serve at Winter Court, and although they work very hard, it is a great time for them as well.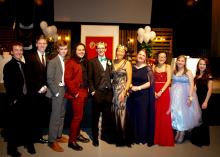 More Special Events:
Annual Senior Carnival
Thanksgiving Food Drive
Senior Chili Night & Auction
Staff Spelling Bee