Only at ACA
Performing Arts
Building a passion and a purpose within the heart of each artist for the glory of the Lord!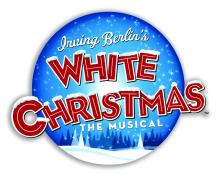 Augustine Christian Academy 
Performing Arts presents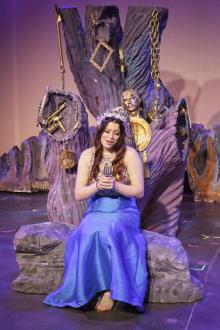 From its foundation, Augustine Christian Academy has invited its students to participate in our performing arts programs. These programs, which include show choir and theatrical productions, are natural companions to our objective of preparing students for excellence in whatever field they may pursue.
Through our theatrical productions, Augustine Christian Academy is committed to preparing students for skilled and winsome communication. Students enjoy the opportunity to audition for roles and appear on stage. Such challenges teach students the power of presentation and imbue them with the courage for self‐expression. From beginning to end, these productions are student‐led, overseen by the direction of Mrs. Dawn Redden. Sets are designed and built by the Stagecraft class, a highlight that students always remember as a happy, lively "boot camp" in creativity, resourcefulness, and teamwork. The entire experience builds true camaraderie and positive working relationships.
We strongly believe that every student should experience live theatre. The life lessons our students learn are far too valuable for just a handful of students to experience. Whether students bring their own body and voice, a needle and thread or a five-thousand-watt light bulb – we invite them to join us and learn to make something as part of a group. It's a bit scary, but it's a very exciting way of learning to relate to yourself and to other people.
For scholarship information, please visit the Gale M. Post Memorial Scholarship page. 
Performing Arts Classes at ACA
We pride ourselves in the excellence of our performing arts classes. Whether pursuing the performing arts diploma at ACA, or taking one course, à la carte, students are guaranteed to gain an expansive  knowledge of the arts through a fun and creative learning experience.
Choir (Grades 2-5)
Music Exploration (6th Grade) 
Intro. to Theatre  (Grades 9-12)
Advanced Acting (Grades 10-12)
Performing Shakespeare  (Grades 10-12)
Stage Craft (Grades 9-12)
Filmmaking (Grades 9-12)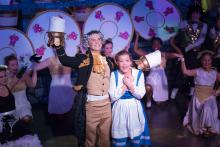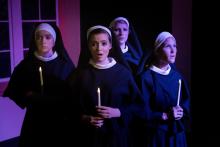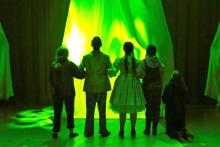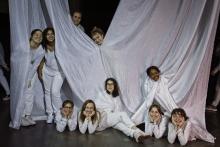 PERFORMING ARTS PRODUCTIONS
Fall Production: Senior Company (Grades 9-12)
Spring Production: Junior Company (Grades 4-8)
Summer Production:  Open to the community (Grades 4-10)
Our list of past productions is long and impressive: Cinderella, A Christmas Carol, Willy Wonka and the Chocolate Factory (Junior Company), Beauty and the Beast, Seussical! The Musical (Junior Company), The Sound of Music, Oklahoma!, Peter Pan Jr. (Junior Company), It's A Wonderful Life, Disney's The Little Mermaid, Jr. (Junior Company), White Christmas, Hello, Dolly!, Pinkalicious (Junior Company), The Boyfriend, Disney's Aladdin, Jr. (Junior Company), The Nutcracker (Junior Company), and Seven Brides for Seven Brothers!
`

The International Thespian Society (ITS) is an honor society for high school theatre students. It is a division of the Educational Theatre Association. Thespian Troupes serve students in grades 9-12. Our motto is "ACT WELL YOUR PART; THERE ALL THE HONOR LIES." Recognition from an international honor society lends additional stature to student honors and achievement and the program as a whole in the eyes of the school, community, and colleges. The society works very much like our houses with students earning progression of ranks through points they have earned through ACA theatre, theatre classes, projects, and more.
Our troupe meets the first Friday each month from 2:15-3:15 in the Performing Arts Building. The troupe director is Mrs. Dawn Redden. All ACA students are encouraged to attend our troupe meetings as well as interested teachers, faculty, and staff.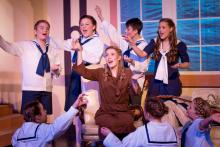 PERFORMING ARTS CLASSICAL DIPLOMA

This diploma option requires 27 total units of study. This diploma emphasizes Visual and Performing Arts (4 units), and requires History (4 units), Mathematics (3 units), Lab Science (3 units), Literature (3 units), Classical Language (2 units of Latin, Greek or Hebrew), Bible (2 units), Rhetoric I, Logic, Technology, Rhetoric Composition & Grammar, Personal Financial Literacy, Senior Thesis and Colloquia (3 colloquia points per year with 1 being a performing arts colloquia). Students working toward this diploma must participate in three ACA senior high productions and two ACA production internships. A minimum of 20 units must be completed at ACA.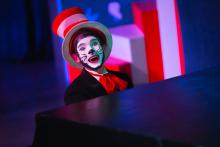 "We are a vibrant community of students, artists, scholars, and craftspeople who come together to tell stories and because theatre tells stories through words and gestures, light and shadow, through music and dance, fabric and color, and through technology, we believe that making theater is a process of learning how to make it collaboratively."
- Mrs. Post, founder of ACA's Performing Arts program