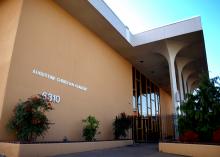 Augustine Christian Academy
6310 E 30th St
Tulsa, Oklahoma 74114
Office Hours: 
Monday-Friday
7:15 a.m. to 5:00 p.m.
Summer Office Hours:
Monday-Thursday
9 a.m. to 4 p.m.
Closed Fridays
School Hours:
8:00 a.m. to 3:15 p.m.
918-832-4600
918-832-4595 (fax)
At Augustine Christian Academy, your children come first.  Thank you for entrusting them to our care. We continually strive to seek new ways to enhance our school safety operations.  In an effort to keep you informed, we have listed several safety measures currently in place which are designed to safeguard students and staff: 
Controlled Access: All doors remain locked during school hours. 
Visitor Registry:  All visitors have to register with the front office before having access to the building. 
24 hours Surveillance System:  We have digital cameras throughout campus to monitor activities inside common areas and outside buildings.
Security Team:  The security team regularly patrols the campus, secure the perimeter of the school, and monitor outside activity in surrounding areas. They watch for and report irregularities such as security breaches, facility and safety hazards, and emergency situations. In addition, they contact emergency responders, such as police, fire, and/or ambulance personnel, as required. 
Crisis Planning:  Our Security Team and School Administrators evaluate school safety and emergency procedures throughout the year. Our Security Team leads and conducts various emergency training sessions. Such training includes "evacuation," for fire emergencies; and "lockdown" drills. 
Crisis Communications Plan: ACA has a robust system in place whereby key administrators are informed of an emergency situation. Upon enrollment, all families are signed up with Simple Texting, a service utilized as an internal and external alert system.
ACA will continue to strive to have the people, processes, infrastructure, and emergency plans in place throughout our school to help safeguard your children.